Model of Institutional Management in Small Islands of Bunaken Nasional Park
Abstract
Bunaken National Park is a conservation area that has the beauty and underwater tourist attraction, which is the mainstay of tourism in North Sulawesi. Its beauty and appeal attract both domestic and foreign tourists to visit this region. Economically it is a positive impact on improving the economy and welfare of the community, but on the other hand, it has a negative impact on the quality of the local environment. It is characterized by the decline in coral cover area, caused by tourism activity itself. Utilization of natural resources as objects and tourist attraction should be done carefully, taking into account the balance of ecological, socio-economic and socio-cultural aspects. The concept of ecotourism is a concept that takes into account the balance of these three aspects, for the TNB travel management needs to be done based on the concept of ecotourism. Model TNB travel management institutions use the systems approach to the Interpretative Structural Modeling (ISM) method. This method is carried out to see the degree of interest among the elements involved in the management of Bunaken National Parks with reference to the expert opinion. Results obtained show that the goals are to protect coral reef ecosystems as objects and tourist attraction, the institutions involved are the Board of Bunaken National Park, a strategic program that is required is to set the number of tourist visits, and furthermore that a major constraint program is the lack of commitment the actors involved.
Keywords: Ecotourism, sustainable management, model, ISM, the conservation area.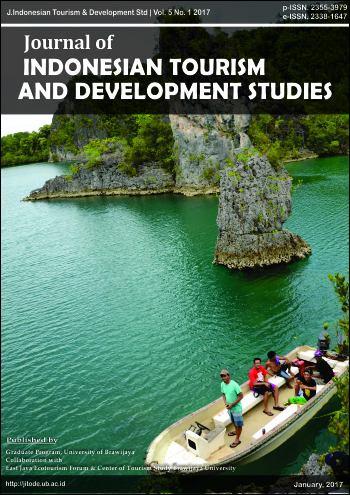 Downloads
License
Authors who publish with this journal agree to the following terms:
Authors retain copyright and grant the journal right of first publication with the work simultaneously licensed under a Creative Commons Attribution License that allows others to share the work with an acknowledgement of the work's authorship and initial publication in this journal.

Authors are able to enter into separate, additional contractual arrangements for the non-exclusive distribution of the journal's published version of the work (e.g., post it to an institutional repository or publish it in a book), with an acknowledgement of its initial publication in this journal.
Authors are permitted and encouraged to post their work online (e.g., in institutional repositories or on their website) prior to and during the submission process, as it can lead to productive exchanges, as well as earlier and greater citation of published work (See The Effect of Open Access).