Eksplorasi Beberapa Jalur Potensi Wisata Birdwatching di Bandealit, Taman Nasional Meru Betiri
Abstract
Indonesia adalah salah satu dari negara tropis dunia yang memiliki kekayaan biodiversitas yang sangat tinggi. Salah satu kawasan yang memiliki biodiversitas tinggi dan dijadikan cagar alam adalah Meru Betiri. Kawasan ini tidak hanya terkenal dengan perlindungan terhadap Harimau Jawa, tetapi juga berbagai keindahan panorama alam dan lokasi hutan hujan tropis yang masih terlindung, salah satunya adalah wilayah Bandealit. Penelitian ini bertujuan menentukan jalur strategis yang dapat disarankan sebagai jalur birdwatching di Bandealit. Pengamatan dilakukan selama dua hari, yaitu pada tanggal 16-17 Nopember 2012. Pengamatan dilakukan dengan menjelajahi jalur-jalur yang dinilai berpotensi sebagai lokasi pengembangan birdwatching. Selain itu, juga dilakukan wawancara terhadap orang-orang kunci untuk mengetahui fluktuasi jumlah spesies di kawasan, konfirmasi jenis, serta mencari informasi terkait spesies yang belum dapat ditemukan. Kami telah menentukan tiga jalur yang berpotensi sebagai jalur birdwatching, yaitu Muara Timur (jalur 1), Savana (jalur 2), dan Lintasan Satwa (jalur 3). Jalur 1 tidak direkomendasikan karena kuantitas dan kualitas spesies yang ditemukan tidak terlalu baik. Jalur 2 dan jalur 3 direkomendasikan untuk pengembangan wisata birdwatching di Bandealit.
Kata kunci: Bandealit, birdwatching, jalur birdwatching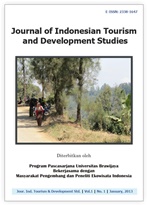 Downloads
License
Copyright (c) 2023 Journal of Indonesian Tourism and Development Studies
This work is licensed under a Creative Commons Attribution 4.0 International License.
Authors who publish with this journal agree to the following terms:
Authors retain copyright and grant the journal right of first publication with the work simultaneously licensed under a Creative Commons Attribution License that allows others to share the work with an acknowledgement of the work's authorship and initial publication in this journal.

Authors are able to enter into separate, additional contractual arrangements for the non-exclusive distribution of the journal's published version of the work (e.g., post it to an institutional repository or publish it in a book), with an acknowledgement of its initial publication in this journal.
Authors are permitted and encouraged to post their work online (e.g., in institutional repositories or on their website) prior to and during the submission process, as it can lead to productive exchanges, as well as earlier and greater citation of published work (See The Effect of Open Access).