Keanekaragaman Hayati Di Kawasan Pantai Kota Ambon Dan Konsekuensi Untuk Pengembangan Pariwisata Pesisir
Abstract
Sebagai suatu daerah yang berada di wilayah Indonesia bagian timur, Pulau Ambon memiliki potensi alam yang banyak menawarkan keanekaragaman daya tarik wisata. Dengan kondisi biogeofisik, sosial budaya masyarakat dapat dijadikan sebagai potensi bagi pengembangan pariwisata. Sebagai ibukota propinsi, kota Ambon memiliki pantai dan kelautan dengan keanekaragaman hayati yang khas, sehingga mempunyai peluang untuk dapat dijadikan sebagai objek wisata bahari termasuk potensi wisata bawah laut, dengan hal tersebut maka propinsi Ambon dikenal dengan sebutan "The Spice Island Exotic Marine Paradise". Keberadaan akan potensi wilayah pesisir laut tersebut dewasa ini belum sepenuhnya dikelola dan di kembangkan dengan baik untuk pengembangan pariwisata, hal ini dikarenakan minimnya pemahaman akan bagaimana cara mengelola dan mengembangkan potensi keanekaragaman hayati tersebut dengan baik.
Kata Kunci: Keanekaragaman hayati, Kota Ambon, potensi, pengembangan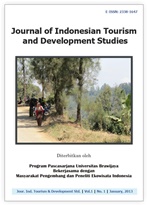 Downloads
License
Copyright (c) 2023 Journal of Indonesian Tourism and Development Studies
This work is licensed under a Creative Commons Attribution 4.0 International License.
Authors who publish with this journal agree to the following terms:
Authors retain copyright and grant the journal right of first publication with the work simultaneously licensed under a Creative Commons Attribution License that allows others to share the work with an acknowledgement of the work's authorship and initial publication in this journal.

Authors are able to enter into separate, additional contractual arrangements for the non-exclusive distribution of the journal's published version of the work (e.g., post it to an institutional repository or publish it in a book), with an acknowledgement of its initial publication in this journal.
Authors are permitted and encouraged to post their work online (e.g., in institutional repositories or on their website) prior to and during the submission process, as it can lead to productive exchanges, as well as earlier and greater citation of published work (See The Effect of Open Access).