Understanding Bird Preference on Agroforestry System: Is There a Potential Case for Birdwatching Development?
Abstract
The main objective of this study is to understand the bird preference on the different types of agroforestry management and the implication on the development of birdwatching as a potential ecotourism. The study was conducted at the agroforestry area of Gubugklakah Village, Malang Regency, East Java Province, Indonesia, from May to November 2016. Five observation sites were chosen: 1) agroforestry developed by ethno-conserving system; 2) agroforestry close to the national park; 3) agroforestry; 4) conventional agriculture area; and 5) houses area. Point Count was applied in this study by determining 5 sampling sites that separated 100-150 m. Survey was conducted once a week and observed every 15 minutes from 6.00 to 9.00 am. The species of bird that observed and heard were noted, identified and result of the field identification was stored in field book. The result shows that the highest Importance Value Index (IVI) was presented by Cave swiftlet and some species that specialized in farmland. Agroforestry area was showing more potential as the birdwatching spot compared to conventional agriculture area and houses area. In addition, agroforestry area showing a high Value of Interest (VOI) that represented a nativity on the birds settler and made it to be the suitable area for birdwatching activities.
Keywords: agroforestry, birdwatching, management, preference.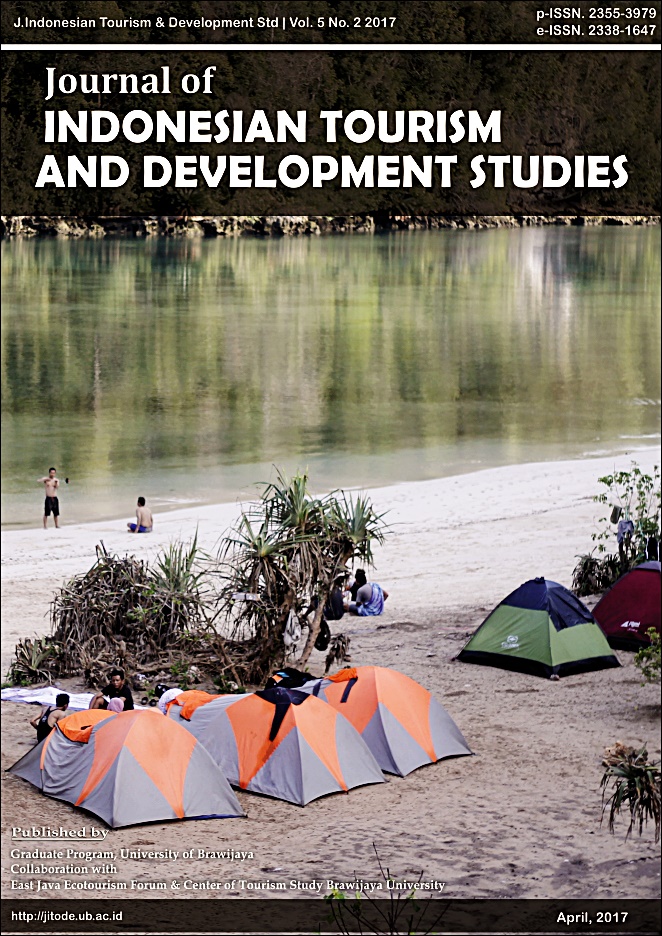 Downloads
License
Copyright (c) 2017 Journal of Indonesian Tourism and Development Studies
This work is licensed under a Creative Commons Attribution 4.0 International License.
Authors who publish with this journal agree to the following terms:
Authors retain copyright and grant the journal right of first publication with the work simultaneously licensed under a Creative Commons Attribution License that allows others to share the work with an acknowledgement of the work's authorship and initial publication in this journal.

Authors are able to enter into separate, additional contractual arrangements for the non-exclusive distribution of the journal's published version of the work (e.g., post it to an institutional repository or publish it in a book), with an acknowledgement of its initial publication in this journal.
Authors are permitted and encouraged to post their work online (e.g., in institutional repositories or on their website) prior to and during the submission process, as it can lead to productive exchanges, as well as earlier and greater citation of published work (See The Effect of Open Access).