Poverty and Tourism: Strategies and Opportunities in Karimunjawa Island, Central Java
Abstract
This article analyzes the strategies of Pro-Poor Tourism (PPT), i.e. the strategies to increase the benefits for poor people from tourism development. It explained the view that tourism, on a small or large scale, has a positive contribution to increased sources of income, creation of employment opportunities, and community development. However, there are still problems in developing the potentialities of the local labor force to contribute in the tourism sector. The development of tourism in Karimunjawa over the past ten years has undergone good progress, but the poverty rate in Karimunjawa is still fairly high. The problem of poverty is a complex one and is linked to a decrease in the main sources of earnings, i.e. fisheries and agriculture. The underlying concern is the fact that the growth of tourism in Karimunjawa has fostered the growth of resorts, hotels or the service sector owned and run by big investors, vis-à-vis the scant participation of the poor. The dominant types of job that the local community does are as employees or hired workers, and they are rarely involved directly in the planning and development of tourism, thereby restricting the potential role of the poor in the tourism sector in Karimunjawa. This study recommends strategies for the empowerment of the local community to enable them to make a considerable contribution to tourism in Karimunjawa in an endeavor to alleviate poverty and enhance the quality of human resources. One strategy recommended in this article is the adoption of a pro-poor policy through vocational training in tourism for the local community of Karimunjawa.
Keywords: Karimunjawa, poverty, Pro-Poor Tourism, tourism, vocational training.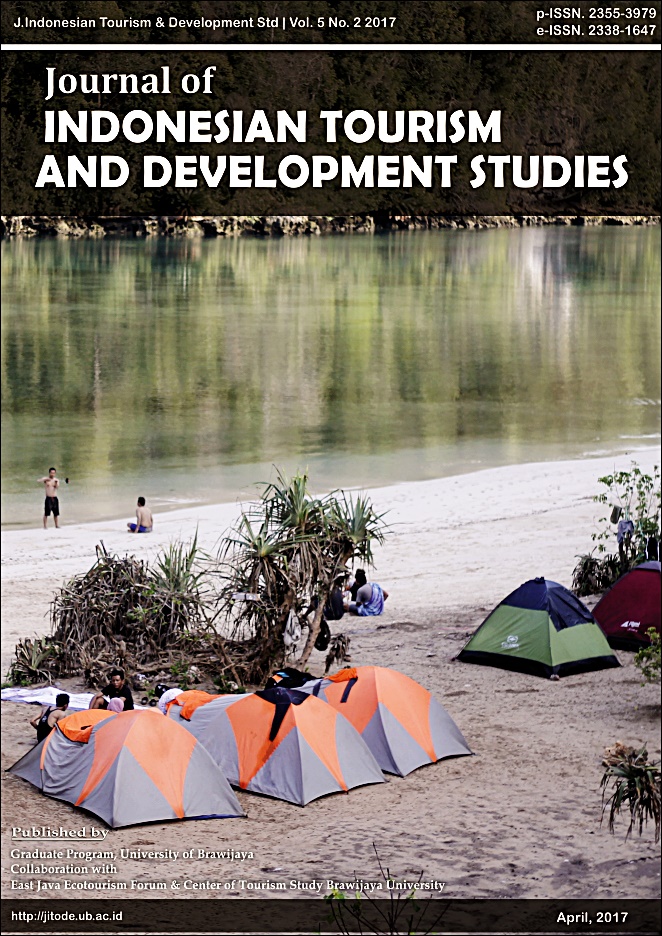 Downloads
License
Copyright (c) 2017 Journal of Indonesian Tourism and Development Studies
This work is licensed under a Creative Commons Attribution 4.0 International License.
Authors who publish with this journal agree to the following terms:
Authors retain copyright and grant the journal right of first publication with the work simultaneously licensed under a Creative Commons Attribution License that allows others to share the work with an acknowledgement of the work's authorship and initial publication in this journal.

Authors are able to enter into separate, additional contractual arrangements for the non-exclusive distribution of the journal's published version of the work (e.g., post it to an institutional repository or publish it in a book), with an acknowledgement of its initial publication in this journal.
Authors are permitted and encouraged to post their work online (e.g., in institutional repositories or on their website) prior to and during the submission process, as it can lead to productive exchanges, as well as earlier and greater citation of published work (See The Effect of Open Access).