Implementasi Kebijakan Pariwisata Berbasis Kearifan Lokal (Studi di Kabupaten Manggarai Barat)
Abstract
Pergeseran episentrum kekuasaan pasca reformasi tahun 1998 dari sentralistik ke desentralisasi memberi harapan baru kepada setiap daerah untuk membangun daerah dengan segala potensi yang dimiliki. Desentralisasi memberi legitimasi kepada setiap daerah untuk memproduksi atau menghasilkan berbagai kebijakan yang sesuai dengan kebutuhan daerah, termasuk di bidang pariwisata. Sebagai subordinat dari Negara Kesatuan Republik Indonesia, Pemerintah Daerah Kabupaten Manggarai Barat juga memiliki legitimasi yang sama untuk membuat berbagai kebijakan termasuk di bidang pariwisata. Pemerintah Kabupaten Manggarai Barat telah menetapkan pariwisata sebagai leading sector pembangunan dan membuat Kebijakan Pariwisata Berbasis Kearifan Lokal untuk mendukung pengembangan pariwisata. Penelitian ini dilakukan dengan menggunakan metode penelitian kualitatif dengan pendekatan fenomenologi untuk menggambarkan, menganalisis dan menginterpretasikan sisi-sisi implementasi seperti Partisipasi, Jejaring, Struktur Keorganisasian, aktor, finansial, fasilitas, kondisi sosial, budaya, ekonomi dan politik serta kepentingan stakeholder. Teori yang digunakan untuk melakukan kajian ini adalah teori implementasi kebijakan Edward III. Berdasarkan teori ini, kesuksesan implementasi Kebijakan ditentukan oleh empat faktor, yaitu komunikasi, sumber daya, disposisi dan struktur birokrasi. Hasil penelitian menunjukkan bahwa ketersediaan sumber daya pendukung implementasi belum dialokasikan dengan jelas, komunikasi dan koordinasi belum berjalan optimal, kondisi eksternal (sosial, ekonomi, dan politik) menghambat implementasi kebijakan Pariwisata Berbasis Kearifan Lokal di Kabupaten Manggarai Barat secara efektif dan optimal. Implikasinya adalah aktivitas pariwisata berbasis kearifan lokal belum berkontribusi secara optimal bagi pemerintah, swasta dan masyarakat dari sisi ekonomi.
Kata Kunci: Kebijakan Publik, Implementasi Kebijakan Publik, Pariwisata, Kearifan Lokal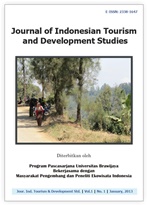 Downloads
License
Copyright (c) 2023 Journal of Indonesian Tourism and Development Studies
This work is licensed under a Creative Commons Attribution 4.0 International License.
Authors who publish with this journal agree to the following terms:
Authors retain copyright and grant the journal right of first publication with the work simultaneously licensed under a Creative Commons Attribution License that allows others to share the work with an acknowledgement of the work's authorship and initial publication in this journal.

Authors are able to enter into separate, additional contractual arrangements for the non-exclusive distribution of the journal's published version of the work (e.g., post it to an institutional repository or publish it in a book), with an acknowledgement of its initial publication in this journal.
Authors are permitted and encouraged to post their work online (e.g., in institutional repositories or on their website) prior to and during the submission process, as it can lead to productive exchanges, as well as earlier and greater citation of published work (See The Effect of Open Access).