Fruit Diversity for Agrotourism Development in Rawa Bayu, Bayu Village, Songgon, Banyuwangi
Abstract
Rural area in around Rawa Bayu tourism object has numerous fruit trees species which is possible to be integrated in the development of nature based tourism in Rawa Bayu. The aims of the study were describing the diversity of fruit species, mapping geographic positions of fruits plants grows, and exploring the local perspective about fruit plants species in its relationship with agrotourism development. Research methods consisted of fruit plant species exploration in Rawa Bayu ecotourism and its surrounding area, mapping the coordinates geographic using GPS (Global Positioning System), and implementing semi structured interviews with local respondends. Exploration was done by visiting Rawa Bayu ecotourism and its surrounding area, especially local people's yard. The fruit plant species was observed morphologically. The geographic position of fruit plant species was mapped using GPS. Semi structured interviews were implemented to 20 respondents, they are consist of locall community, tourist and local tourist in Rawa Bayu. Data was analized descriptively. This research found about 13 fruit plant species grows in Rawa Bayu area. Fruit plant species were potential for rural tourism development program. The most common fruit plant species found were durian (Durio zibethinus), salacca (Salacca zalacca), banana (Musa sp.), guava (Syzygium aqueum), jackfruit (Artocarpus heterophyllus), jengkol (Archidendron pauciflorum), langsat (Lansium domesticum), clove (Syzigium aromaticum), mangosteen (Garcinia mangostana), and avocado (Persea americana). Residents around Rawa Bayu ecotourism wishes the region became fruit agrotourism area to improve the people's economy.
Keywords: agrotourism, Banyuwangi, fruit conservation, tourist attractions.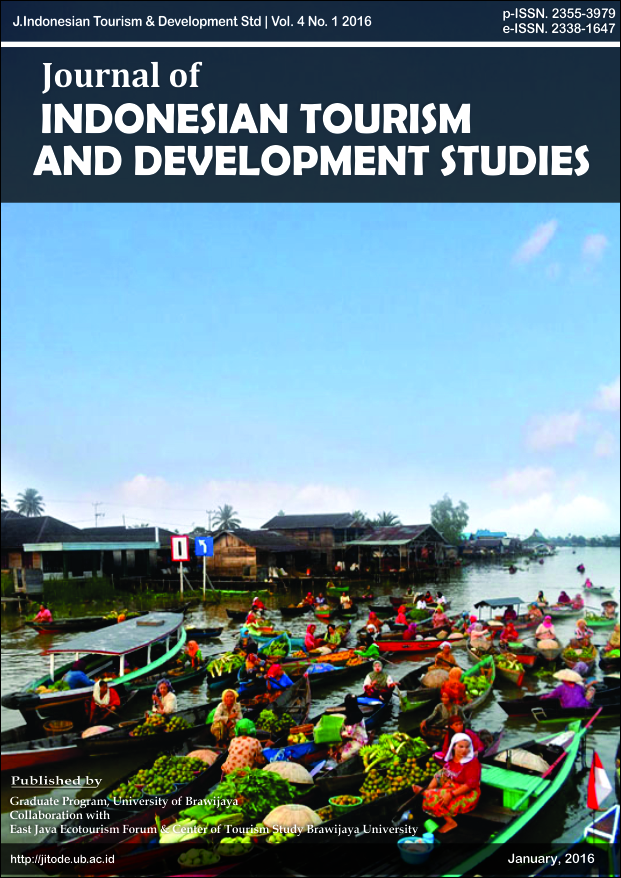 Downloads
License
Copyright (c) 2016 Journal of Indonesian Tourism and Development Studies
This work is licensed under a Creative Commons Attribution 4.0 International License.
Authors who publish with this journal agree to the following terms:
Authors retain copyright and grant the journal right of first publication with the work simultaneously licensed under a Creative Commons Attribution License that allows others to share the work with an acknowledgement of the work's authorship and initial publication in this journal.

Authors are able to enter into separate, additional contractual arrangements for the non-exclusive distribution of the journal's published version of the work (e.g., post it to an institutional repository or publish it in a book), with an acknowledgement of its initial publication in this journal.
Authors are permitted and encouraged to post their work online (e.g., in institutional repositories or on their website) prior to and during the submission process, as it can lead to productive exchanges, as well as earlier and greater citation of published work (See The Effect of Open Access).