Identifying Impressive Landscape Objects Based on Geotagged Photographs (A Case Study of Self-Portraits and Ordinary Photos)
Abstract
Photographs are important elements in ecotourism activities. The current research utilizes respondents' geotagged photographs to explore the potential landscape objects with its locations. The study invited 61 respondents to come to Bukit Kucing Forest and capture impressive landscape objects. The study used Getis-Org Gi* Hotspot analysis tools in ArcGIS to identify hotspots places based on the numbers of closest photos captured points to five-meters trail segments. There were 1,712 geo-tagged photographs consist of 412 self-portraits and 1,300 ordinary photographs collected from respondents. The finding shows that geotagged photographs, both self-portraits and ordinary photographs, performed hotspots places that containedimpressive landscape objects including: physical structures, wide opening area and panoramic views. Self-portraits' hotspots which were detected more spread and less number than ordinary photographs were able to perform places that werenot detected in ordinary photographs' hotspots. The current work shows that geotagged self-portraits is able to be utilized as object research in identifying hotspots of impressive landscape spaces and objects. The maps of geotagged photographs both ordinary photographs and self-portraits are able to be used as information of visitors' preferences for developing masterplan of ecotourism.
Keywords: forest, Geotagged, hotspots, photographs, self-portraits.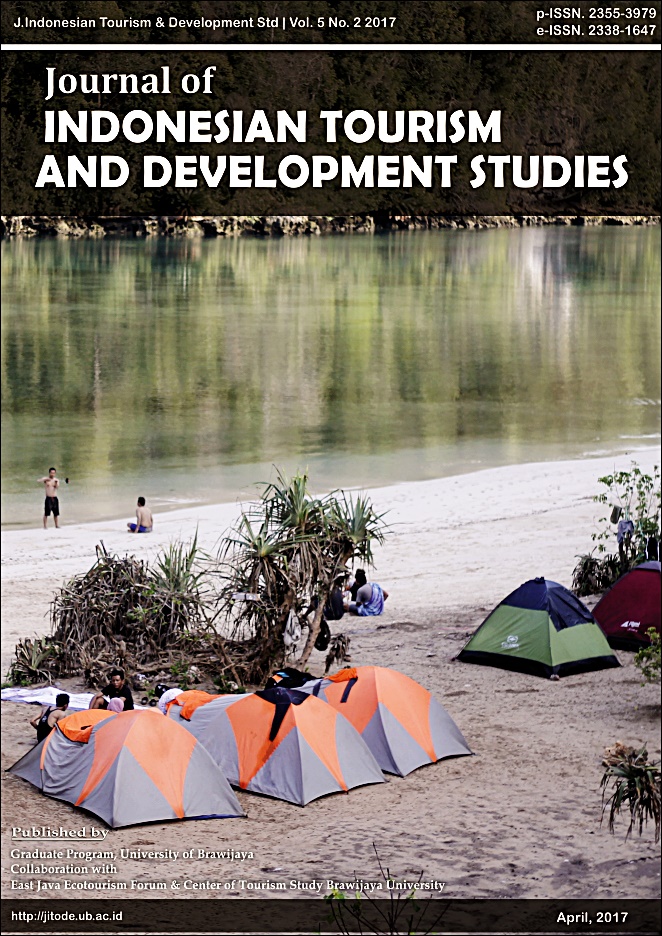 Downloads
License
Copyright (c) 2017 Journal of Indonesian Tourism and Development Studies
This work is licensed under a Creative Commons Attribution 4.0 International License.
Authors who publish with this journal agree to the following terms:
Authors retain copyright and grant the journal right of first publication with the work simultaneously licensed under a Creative Commons Attribution License that allows others to share the work with an acknowledgement of the work's authorship and initial publication in this journal.

Authors are able to enter into separate, additional contractual arrangements for the non-exclusive distribution of the journal's published version of the work (e.g., post it to an institutional repository or publish it in a book), with an acknowledgement of its initial publication in this journal.
Authors are permitted and encouraged to post their work online (e.g., in institutional repositories or on their website) prior to and during the submission process, as it can lead to productive exchanges, as well as earlier and greater citation of published work (See The Effect of Open Access).