Maneke as Local Wisdom in the Community of Small Islands in Sangihe Island Regency, North Sulawesi
Abstract
Maneke is one of the local wisdom in Sangihe Islands Regency, inherited from the ancestors of the people of Sangihe. Maneke contains the norms and values of life and customs to keep the mutual relationship between humans and nature. This local wisdom, however, has gradually become extinct. The aim of the research was to describe the Maneke as a local wisdom in Sangihe Islands. Sangihe Island Regency is one of a cluster of islands located in North Sulawesi province with 150 islands, 26 inhabited and 79 uninhabited islands. There are two islands on the cluster of uninhabited islands located in two Districts in Sangihe. The focus of this research is done on the Batunderang Island in the Sub-district of South Manganitu and Para Island in the District of Tatoareng. This study used a qualitative approach to the design ethnography emphasizes the natural setting to see, learn, express and understand how to observe, and observations with in-depth interviews and conduct focus group discussions with community members, traditional leaders, public figures, figures from religious leaders and members of the implementation group of Maneke. Maneke is a socio-cultural system that has a socio-cultural elements contained in the components of the superstructure ideology, social structure and infrastructure material. Maneke is the component of the superstructure ideology because it has cultural values and norms into view, knowledge, activity and behavior patterns which are actualized in the traditions, customs, rituals beliefs or religion.
Keywords: local knowledge, Maneke, marine tourism, Sangihe Island.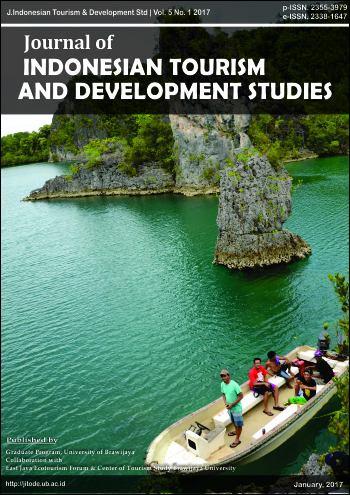 Downloads
License
Authors who publish with this journal agree to the following terms:
Authors retain copyright and grant the journal right of first publication with the work simultaneously licensed under a Creative Commons Attribution License that allows others to share the work with an acknowledgement of the work's authorship and initial publication in this journal.

Authors are able to enter into separate, additional contractual arrangements for the non-exclusive distribution of the journal's published version of the work (e.g., post it to an institutional repository or publish it in a book), with an acknowledgement of its initial publication in this journal.
Authors are permitted and encouraged to post their work online (e.g., in institutional repositories or on their website) prior to and during the submission process, as it can lead to productive exchanges, as well as earlier and greater citation of published work (See The Effect of Open Access).