The Invasive Plants Species along the Hiking Track of Mount Panderman Nature Tourism, Batu, East Java
Abstract
Indonesia has the highest biodiversity that places ecotourism as a sustainable development sector. The negative impact of ecotourism is the vulnerability to invasive plant species growth. They invade the habitat of the native plants and potentially alter the biodiversity balance. This invasive plant introduction is predicted caused by tourist and hiker visits. Therefore, the inventory of invasive plant species is urgently needed. The field survey was conducted on March 11-12, 2017 to inventory invasive plant species along the Panderman Mountain hiking track that common travelers explored and then identified. Species of Pinus Caribaea, Chromolaena odorata, Lantana camara, Leucaena leucocephala, Pennisetum purpureum are categorized invasive plants. Four species of plants otherwise potentially invasive include Calliandra calothrysus, Ageratum conyzoides, Bidens pilosa, and Acacia deccurens. The widespread access to protected environmental destinations leads to the spread of highly invasive species. The impact of invasive species depends on factors such as reproduction rate, vegetative phase, adaptability of seeds that can withstand adverse conditions and in particular human vectors as a way of spreading them.
Keywords: Batu, Ecotourism, Hiking track, Invasive plants, Panderman Mountain.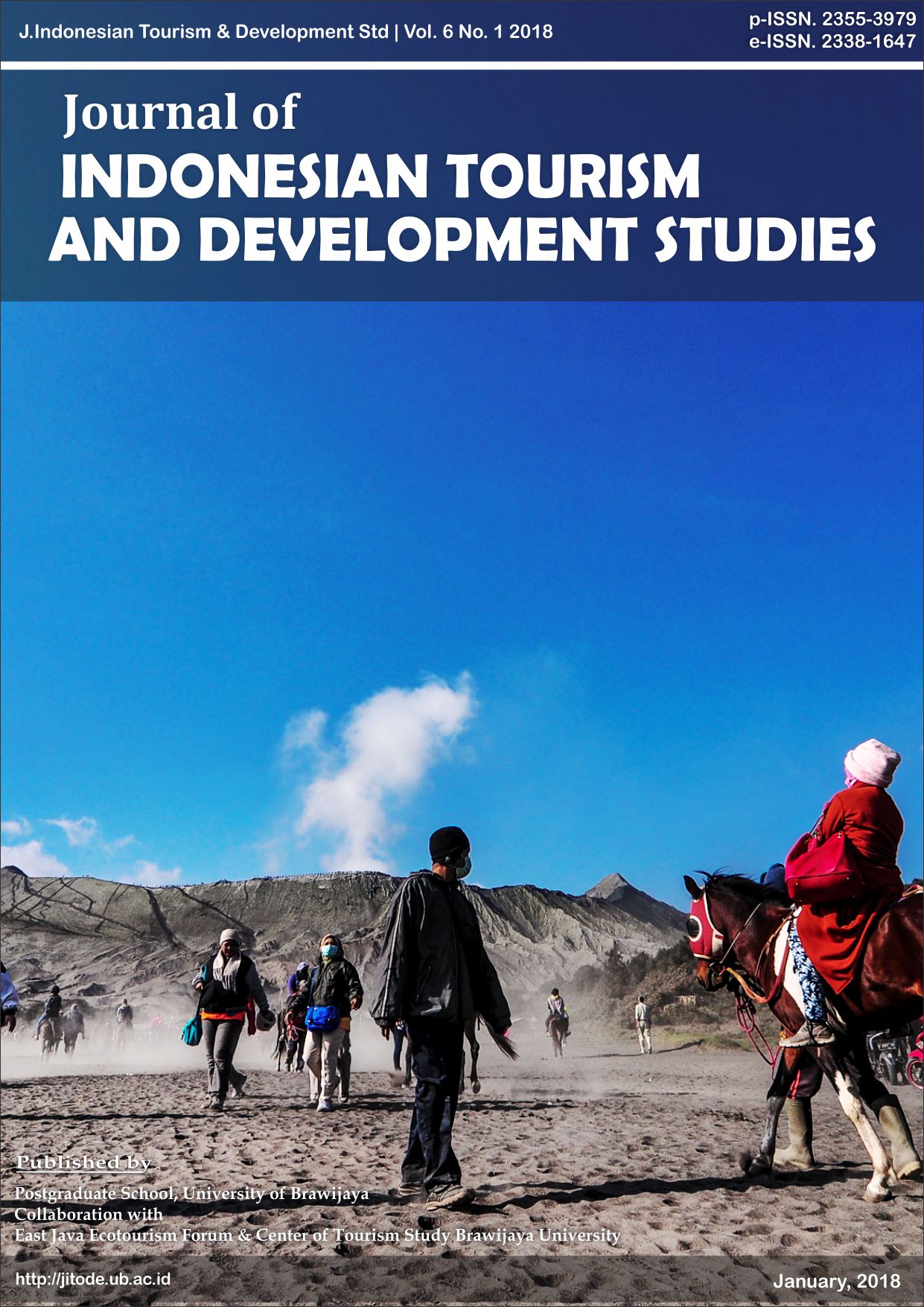 Downloads
License
Copyright (c) 2018 Journal of Indonesian Tourism and Development Studies
This work is licensed under a Creative Commons Attribution 4.0 International License.
Authors who publish with this journal agree to the following terms:
Authors retain copyright and grant the journal right of first publication with the work simultaneously licensed under a Creative Commons Attribution License that allows others to share the work with an acknowledgement of the work's authorship and initial publication in this journal.

Authors are able to enter into separate, additional contractual arrangements for the non-exclusive distribution of the journal's published version of the work (e.g., post it to an institutional repository or publish it in a book), with an acknowledgement of its initial publication in this journal.
Authors are permitted and encouraged to post their work online (e.g., in institutional repositories or on their website) prior to and during the submission process, as it can lead to productive exchanges, as well as earlier and greater citation of published work (See The Effect of Open Access).