Development Strategy of Brau Edufarm Tourism in Batu
Abstract
Brau Hamlet is a hamlet located in Batu City included in the category of underdeveloped Inpres regional where people's livelihoods are only based on dairy farming. Brau hamlet is known as the village of 1000 cows; the second largest after the Hamlet of Toyomerto in the city of Batu. Brau Hamlet is a hilly area with beautiful natural scenery. Brau hamlet has tourism and agricultural potential, but so far it has not been identified and mapped in an integrated manner. This study aims to formulate a strategy for developing edu farm tourism in Brau hamlet. Tourist Attractions in Brau Hamlet having the potential to be developed are edu farm tourism. The strategy of developing edu farm tourism in Brau Hamlet is in quadrant 1 which means that the strategy is done aggressively using the concentration of vertical integration. Vertical integration is carried out at all stages of the supply chain of cattle farms from upstream to downstream, such as; (1) Dairy Cow Nursery; (2) Provision of Feed; (3) Health access to Dairy Cows; (4) Processing cow's milk into finished products; (5) Waste treatment; (6) Product Marketing. As for the SWOT matrix, the biggest total score of the combination of internal factors and external factors is to strengthen the brand back to nature and always give innovation to tourist rides (S1.5 and T1.4) of 1.65. Based on the Internal External (IE) matrix analysis, the total value of IFAS and EFAS parameters is in cell 4. The strategy taken is growth strategy by carrying out vertical integration and slowly and carefully developing tourism management.
Keywords: CBT, Edufarm, Development, tourist attraction object, Strategy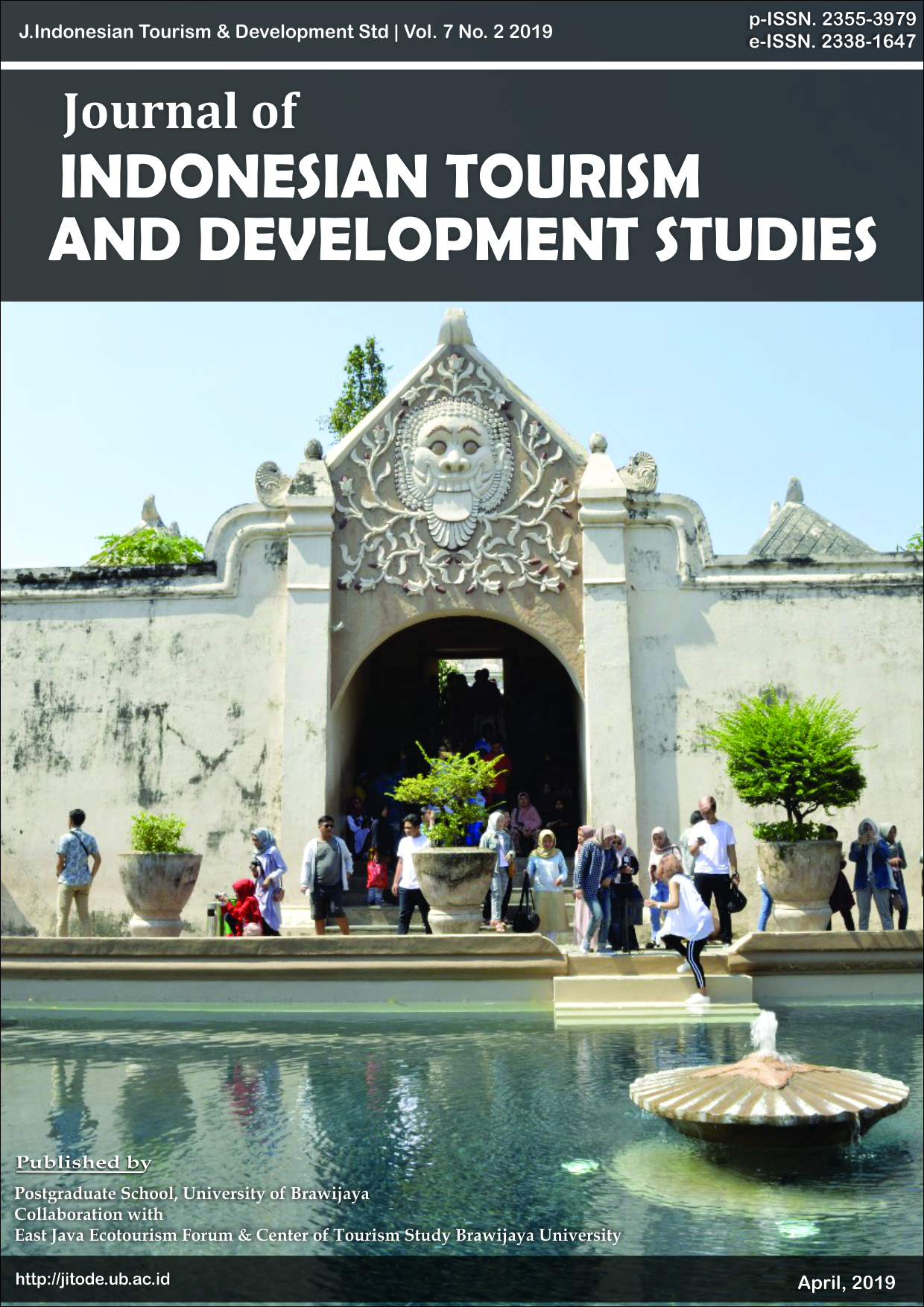 Downloads
License
Authors who publish with this journal agree to the following terms:
Authors retain copyright and grant the journal right of first publication with the work simultaneously licensed under a Creative Commons Attribution License that allows others to share the work with an acknowledgement of the work's authorship and initial publication in this journal.

Authors are able to enter into separate, additional contractual arrangements for the non-exclusive distribution of the journal's published version of the work (e.g., post it to an institutional repository or publish it in a book), with an acknowledgement of its initial publication in this journal.
Authors are permitted and encouraged to post their work online (e.g., in institutional repositories or on their website) prior to and during the submission process, as it can lead to productive exchanges, as well as earlier and greater citation of published work (See The Effect of Open Access).