Community Perspective on the Banjarese Cuisine and the Strategy for Culinary Tourism Development in Kuin Village, Banjarmasin
Abstract
Ethnic food is a form of community participation in the process of using plants, animals, or other biological resources that have local wisdom values. Ethnic food can be explored further to reach the environmental and cultural conservation value based on community perspective, because the cuisine is always served from generation to generation continuously. It is also a tourism potential and base for culinary tourism development. This study aimed to analyze the community perspectives of Banjarese Cuisine and also gives recommendations for tourism products based on local resources. This study interviewed 74 respondents in Kuin Village from September 2019 to January 2020 using questionnaires. Respondents are local people who live in the area along the Kuin River, Banjarmasin, South Kalimantan. Information for tourism potential is about tourism and culinary conditions, community perspectives, literature studies, and other local wisdom information. The highest score is 4.47 about teaching Banjar cooking recipes in Kuin Village to others as an important effort by the Banjarese people. It reflects that public awareness of teaching recipes is still high. The lowest point of 2.36 reflects the existence of a floating market did not help much with the availability of various raw materials for Banjarese cuisine because usually, people buy raw materials in Banjarmasin traditional markets, especially the spices market.
Keywords: Banjarmasin, Community Responses, Culinary Tourism, Ethnic food.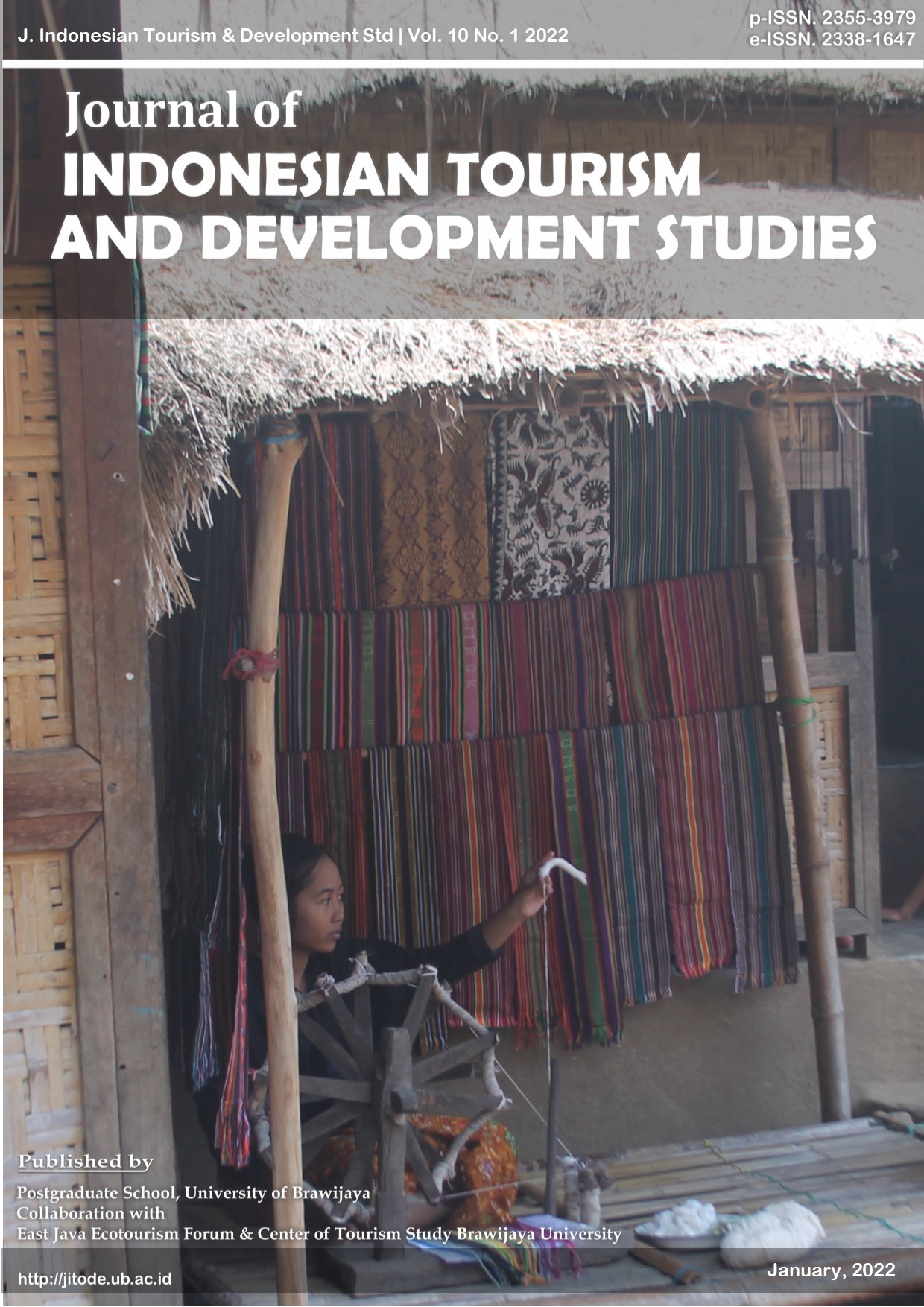 Downloads
License
Copyright (c) 2022 Journal of Indonesian Tourism and Development Studies
This work is licensed under a Creative Commons Attribution 4.0 International License.
Authors who publish with this journal agree to the following terms:
Authors retain copyright and grant the journal right of first publication with the work simultaneously licensed under a Creative Commons Attribution License that allows others to share the work with an acknowledgement of the work's authorship and initial publication in this journal.

Authors are able to enter into separate, additional contractual arrangements for the non-exclusive distribution of the journal's published version of the work (e.g., post it to an institutional repository or publish it in a book), with an acknowledgement of its initial publication in this journal.
Authors are permitted and encouraged to post their work online (e.g., in institutional repositories or on their website) prior to and during the submission process, as it can lead to productive exchanges, as well as earlier and greater citation of published work (See The Effect of Open Access).