Strategi Pengembangan Wista Mangrove Di "Blok Bedul" Taman Nasional Alas Purwo Kabupaten Banyuwangi Jawa Timur
Abstract
Ekowisata dapat dilihat sebagai suatu konsep pengembangan pariwisata berkelanjutan yang bertujuan untuk mendukung upaya-upaya pelestarian lingkungan dan meningkatkan partisipasi masyarakat dalam pengelolaannya. Oleh karena itu diperlukan penelitian tentang strategi pengembangan ekowisata kawasan mangrove untuk mendukung pelestarian lingkungan pesisir yang berkelanjutan. Hasil penelitian menujukan Potensi mangrove yang terdapat di kawasan ini 4 species dari 2 famili yaitu : Rhizophora mucronata, Rhizophora apiculata, Sonneratia alba dan Cariop tagal, selain itu dari hasil studi literatur diketahui bahwa terdapat 24 species dari 12 famili di sepanjang kawasan segara anakan Taman Nasional Alas Purwo. Untuk inventarisasi satwa, dari hasil studi literatur dan pengamatan dilapang terdapat jenis burung air, burung darat, burung pemangsa, mamalia, reptile, pisces dan crustacea. Untuk potensi budaya terdapat upacara petik laut dan sumber air randu telu yang dipercaya dapat menyembuhkan penyakit. Dari hasil analisa kuisioner 47% dari jumlah pengunjung mengetahui tentang ekosistem mangrove. Dan 47% dari responden yang memahami tentang fungsi ekosistem mangrove. Dari pengenalan tentang ekowisata mempunyai nilai-nilai konservasi atau perlindungan, 85% responden memahami hal tersebut. Untuk pemberdayaan masyarakat, 67% memahami ekowisata harus disertai dengan pemberdayaan dan partisipasi masyarakat. Dan 50% responden menyetujui bahwa ekowisata harus memberikan nilai ekonomi kepada masyarakat. Dan untuk persepsi bahwa ekowisata harus dapat memberikan nilai pendidikan kepada pengunjung, 73% responden mengetahuinya. Dari hasil perhitungan menggunakan konsep surplus konsumen didapat total valuasi ekonomi kawasan ekowisata mangrove blok bedul adalah Rp. 88.606.183,00. Nilai ini untuk per 1000 orang dalam kunjungan pertahun. Arahan strategi kebijakan pengembangan antara lain: (a) Kelembagaan pengelola ekowisata harus dapat meningkatkan pelayanannya, (b) Pengembangan usaha berbasis ekowisata dengan melakukan kerjasama dibidang pemasaran dengan pengelola wisata lain. (c) Pengembangan wisata mangrove dengan mencari potensi wisata lain, (d) Dibuat perencanaan kerja lima tahun untuk pengembangan ekowisata berkelanjutan, (e) Menggunakan penelitian yang ada untuk kajian sehingga memiliki potensi wisata lainnya.
Kata Kunci: ekowisata, mangrove, valuasi skonomi (TEV), SWOT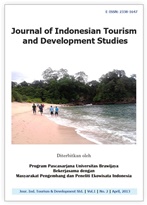 Downloads
License
Copyright (c) 2023 Journal of Indonesian Tourism and Development Studies
This work is licensed under a Creative Commons Attribution 4.0 International License.
Authors who publish with this journal agree to the following terms:
Authors retain copyright and grant the journal right of first publication with the work simultaneously licensed under a Creative Commons Attribution License that allows others to share the work with an acknowledgement of the work's authorship and initial publication in this journal.

Authors are able to enter into separate, additional contractual arrangements for the non-exclusive distribution of the journal's published version of the work (e.g., post it to an institutional repository or publish it in a book), with an acknowledgement of its initial publication in this journal.
Authors are permitted and encouraged to post their work online (e.g., in institutional repositories or on their website) prior to and during the submission process, as it can lead to productive exchanges, as well as earlier and greater citation of published work (See The Effect of Open Access).