Factors Affecting Level of Participation in the Management of Mangroves as Ecotourism Attraction: Lesson Learned from Cengkrong Watulimo, Trenggalek
Abstract
Ecotourism development can not be separated from the social aspects of the people living around the tourist sites. One indicator that a tourist location is said to be ecotourism-based is the participation of community in the activities of management. This study aims to determine the effect of variables that exist on the level of community participation in the management of mangrove areas Cengkrong using Partial Least Square (PLS) method. The variables used in this study are: community characteristics, perceptions, norms, patterns of social relationships, and trust. From the research, the variables that have a dominant influence on the level of participation in the management of mangrove Cengkrong is variable of perceptions, norms, and trusts with the value of the effect size, respectively for 0.098, 0.204, and 0.431. While variable of trust has most influence to the coefficient path of community participation with a value of 0.64.
Keywords: Ecotourism, Factors of Participation, Level of Participation, Partial Least Square (PLS).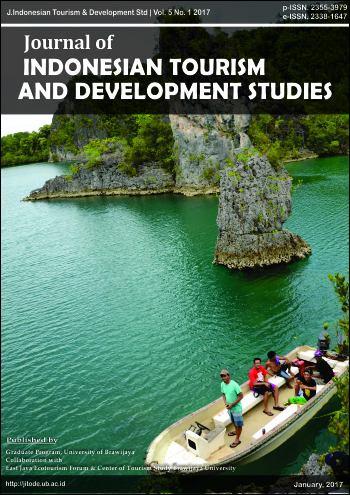 Downloads
License
Authors who publish with this journal agree to the following terms:
Authors retain copyright and grant the journal right of first publication with the work simultaneously licensed under a Creative Commons Attribution License that allows others to share the work with an acknowledgement of the work's authorship and initial publication in this journal.

Authors are able to enter into separate, additional contractual arrangements for the non-exclusive distribution of the journal's published version of the work (e.g., post it to an institutional repository or publish it in a book), with an acknowledgement of its initial publication in this journal.
Authors are permitted and encouraged to post their work online (e.g., in institutional repositories or on their website) prior to and during the submission process, as it can lead to productive exchanges, as well as earlier and greater citation of published work (See The Effect of Open Access).