Agroedutourism and Ecopreneurship Activities on the Organic Farming Practice in Lawang, Malang Regency, East Java, Indonesia
Abstract
Five farmer groups in Lawang, Malang Regency, East Java Provinces, established organic agricultural practices almost two decades. They were visited frequently for farmer benchmarking activities; therefore they had planned to develop agroedutourism. The aims of this research were to identify potential organic farming activities as agroedutourism attractions as well as farmer ecopreneurship, to find out the existing agroedutourism facilities profile and to propose some strategies for further sustainable development. The data were gathered by interviewing key person of each farmer group in Lawang. Their agroedutourism profiles compared with a developed local agro-tourism using gap analysis. Farmer groups offered some distinct attractions and become their strengths such as out door activities in the organic perfumed and pigmented rice field, fruits and vegetable garden, zero waste management, biological pest control and healthy agricultural products. Establishment of this agroedutourism would be advantageous to lesson sharing among farmers and students, to be ecopreneur activity shown by an effective market system, to show real benefits of healthy agro-ecosystem and its products, as well as to show promising green business or ecopreneurship. Collaboration among them would improve available attractions and length of visit. Moreover, the results showed that 80% of farmer groups were visited regularly 5-10 times per month by potential visitors such as other farmer groups, house wives, staffs of agricultural departments and students. All farmer groups planned to develop agroedutourism; however the policy was only issued by 60% of farmer groups. Most of farmer groups showed a high variability in providing edutourism tours and guides. For sustainable development, farmer groups should provide more interesting attractions and facilities, develop their human resource, net working, and public promotion.
Keywords: agroedutourism, attraction, ecopreneurship, farmer groups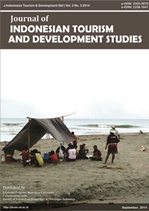 Downloads
License
Authors who publish with this journal agree to the following terms:
Authors retain copyright and grant the journal right of first publication with the work simultaneously licensed under a Creative Commons Attribution License that allows others to share the work with an acknowledgement of the work's authorship and initial publication in this journal.

Authors are able to enter into separate, additional contractual arrangements for the non-exclusive distribution of the journal's published version of the work (e.g., post it to an institutional repository or publish it in a book), with an acknowledgement of its initial publication in this journal.
Authors are permitted and encouraged to post their work online (e.g., in institutional repositories or on their website) prior to and during the submission process, as it can lead to productive exchanges, as well as earlier and greater citation of published work (See The Effect of Open Access).