Ethnobiological Study of Larung Sembonyo Ceremony in Watulimo District, Trenggalek as a Basic of Ecotourism Planning
Abstract
This research aims to describe the ritual plant species and types of offerings that are used in Larung Sembonyo ceremonies and to know the community's role in the conservation of ritual plants. Plant diversity and utilization survey were conducted by semi-structured and structured interviews to the informant. The selection of informants was using snowball sampling technique. Data was analyzed descriptively with ICS and FUVs index. The results of the study found 38 species of Larung Sembonyo ritual which is divided into 23 families. Types of offerings are used in Larung Sembonyo ceremony as much as 31 types, each of which has its own meaning. The 10 highest Value Index of Cultural Significance (ICS) of LarungSembonyo ceremonial plant is Oryza sativa L., Oryza glutinosa, Cocos nucifera L., Musa paradisiaca L., Pandanus amaryllifolus Roxb., Piper battle L., Aliumcepa L., Alium sativum L. and Manihot esculenta Crantz. The five highest Family Values Use (FUVs) were occupied by Family Arecaceae, Euphorbiaceae, musaceae, Solanaceae and Poaceae. The higher FUVs the more uses and utilization of these plants in a ritual ceremony Larung Sembonyo. Karanggongso community has indirect conservation efforts on plants that are used for rituals. The conservation efforts were carried out by planting crops in the garden, home yard, even in the woods. The concept of management mostly still uses traditional knowledge. The LarungSembonyo has special value to integrates in ecotourism development planning. Larung Sembonyo has special uniqueness which are able to attract visitor.
Keywords: Conservation, FUVs, ICS, Larung Sembonyo.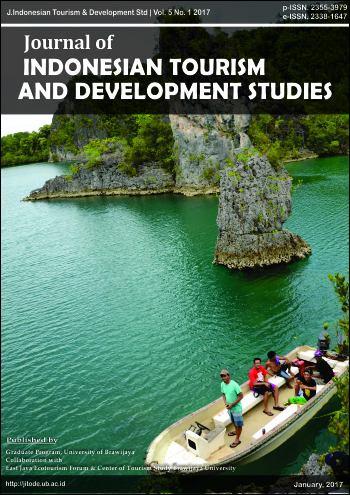 Downloads
License
Authors who publish with this journal agree to the following terms:
Authors retain copyright and grant the journal right of first publication with the work simultaneously licensed under a Creative Commons Attribution License that allows others to share the work with an acknowledgement of the work's authorship and initial publication in this journal.

Authors are able to enter into separate, additional contractual arrangements for the non-exclusive distribution of the journal's published version of the work (e.g., post it to an institutional repository or publish it in a book), with an acknowledgement of its initial publication in this journal.
Authors are permitted and encouraged to post their work online (e.g., in institutional repositories or on their website) prior to and during the submission process, as it can lead to productive exchanges, as well as earlier and greater citation of published work (See The Effect of Open Access).