Pemetaan Sebaran Dan Karakter Populasi Tanaman Buah Di Sepanjang Koridor Jalur Wisatadesa Kemiren, Tamansuruh, Dan Kampunganyar, Kabupaten Banyuwangi
Abstract
Penelitian ini bertujuan untuk mengetahui peta persebaran tanaman buah, karakter populasi tanaman buah, serta persepsi masyarakat pemilik tanaman buah di sepanjang jalur wisata Desa Kemiren, Tamansuruh, dan Kampunganyar, Kabupaten Banyuwangi. Metode yang dilakukan meliputi survei pemetaan pertanian tanaman buah (mangga, rambutan, manggis, durian, jambu air dan jambu biji) dengan merekam titik koordinat dari GPS untuk setiap tanaman buah. Penentuan karakter populasi tanaman buah dilakukan dengan mengamati morfologi tanaman terkait vitalitas dan periodisitas. Persepsi masyarakat dilakukan dengan wawancara dan kuisioner. Analisis data dilakukan dengan mengolah data koordinat dan data pengamatan karakter populasi tanaman buah ke dalam peta dasar melalui aplikasi GIS. Pemetaan persepsi masyarakat diperoleh dengan wawancara dan kuisioner yang dihitung dengan skala Likert kemudian dipetakan sebaran spasialnya dengan aplikasi GIS. Hasil penelitian menunjukkan bahwa persebaran tanaman buah yang ada di pekarangan rumah banyak tersebar di sepanjang jalur desa wisata dengan perbandingan jumlah buah yang ditemukan di Desa Kemiren 76 pohon, Tamansuruh 53 pohon, dan Kampunganyar 40 pohon. Kondisi tanaman buah dalam keadaan tumbuh dengan baik, bertunas, berbunga dan berbuah, hal ini dikarenakan pada saat penelitian waktunya tanaman buah memasuki masa berbuah dan masa panen. Antusiasme masyarakat tinggi untuk menjadikan tanaman buah yang ada di sepanjang jalur desa wisata sebagai daya tarik wisatawan.
Kata Kunci: jalur wisata, karakter populasi, pemetaan, persepsi, tanaman buah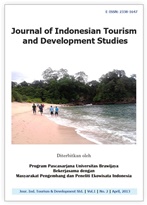 Downloads
License
Authors who publish with this journal agree to the following terms:
Authors retain copyright and grant the journal right of first publication with the work simultaneously licensed under a Creative Commons Attribution License that allows others to share the work with an acknowledgement of the work's authorship and initial publication in this journal.

Authors are able to enter into separate, additional contractual arrangements for the non-exclusive distribution of the journal's published version of the work (e.g., post it to an institutional repository or publish it in a book), with an acknowledgement of its initial publication in this journal.
Authors are permitted and encouraged to post their work online (e.g., in institutional repositories or on their website) prior to and during the submission process, as it can lead to productive exchanges, as well as earlier and greater citation of published work (See The Effect of Open Access).