Analisis Suhu Tanah Di Kawasan Wisata Alam Danau Linow Kota Tomohon Sulawesi-Utara
Abstract
Sulawesi Utara mempunyai potensi untuk dikembangkan menjadi kawasan wisata, salah satu potensi adalah Danau Linow di Tomohon Selatan. Kawasan Danau Linow memiliki lahan yang cukup luas serta keragaman flora dan fauna dengan topografi berbukit-bukit. Untuk menunjang wisata alam di kawasan Danau Linow maka tujuan penelitian ini adalah melakukan kajian mendalam potensi lahan agar dapat dioptimalkan penggunaannya kearah pemanfaatan yang konservatif tentang suhu termal dikawasan tersebut. Metode pengukuran suhu tanah pada penelitian ini dilakukan pada tiga tempat yang berbeda, yaitu pada lahan persawahan, hutan, dan lahan terbuka yang merupakan tempat sumber termal. Jarak pengukuran dari tepi danau dengan kisaran 0 m, 2 m, 8 m, 16 m, 32 m. kedalaman pengukuran pada tanah <5 cm sampai 15 cm. Suhu tanah pada lokasi persawahan cukup bervariasi, paling tinggi suhu yang didapatkan adalah pada pukul 14.30 WITA pada masing-masing jarak dari tepid an kedalaman pengukuran. Paling tinggi suhu 31,7oC pada jarak 8 m dari tepi danau dengan jarak 15 cm dari permukaan tanah. Suhu tanah pada lokasi hutan mulai dari 24,2oC sampai 62,6oC. paling tinggi pada daerah tepi danau pada pukul 14.30 WITA. Suhu permukaan tanah di lokasi terdapat sumber termal bervariasi antara 42 - > 60oC. Pada kedalaman sekitar 1 m, suhu tanah bervariasi antara 45 - > 70oC. Lahan di lokasi ini tidak ditumbuhi rumput atau pepohonan. Kesimpulan hasil pengukuran dan analisis suhu tanah pada beberapa lokasi di sekitar danau Linow menunjukkan bahwa suhu tanah sangat bervariasi yang dipengaruhi oleh penyinaran matahari dan karena adanya sumber termal. Hasil analisis menunjukkan bahwa pengaruh energi termal dari lapisan bawah permukaan bumi hanya mencapai jarak mendatar kurang dari 8 m, sehingga sebagian besar lahan sekitar danau Linow dapat dimanfaatkan untuk penanaman vegetasi atau budidaya tanaman serta pengembangan kearah agrowisata.
Kata  kunci: Danau Linau, energi termal, Tomohon, suhu tanah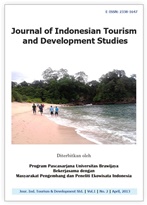 Downloads
License
Copyright (c) 2023 Journal of Indonesian Tourism and Development Studies
This work is licensed under a Creative Commons Attribution 4.0 International License.
Authors who publish with this journal agree to the following terms:
Authors retain copyright and grant the journal right of first publication with the work simultaneously licensed under a Creative Commons Attribution License that allows others to share the work with an acknowledgement of the work's authorship and initial publication in this journal.

Authors are able to enter into separate, additional contractual arrangements for the non-exclusive distribution of the journal's published version of the work (e.g., post it to an institutional repository or publish it in a book), with an acknowledgement of its initial publication in this journal.
Authors are permitted and encouraged to post their work online (e.g., in institutional repositories or on their website) prior to and during the submission process, as it can lead to productive exchanges, as well as earlier and greater citation of published work (See The Effect of Open Access).