Analysis of Bird Diversity for Supporting Ecotourism Development in Rajegwesi, Meru Betiri National Park
Abstract
Potential ecotourism attraction in Rajegwesi Village, Meru Betiri National Park is high due to its high biodiversity, especially bird diversity, in the form of bird watching activity. This study was aimed to determine the species, level of abundance, and diversity of birds found in the Rajegwesi area. Further, this basic information is important to develop the bird watching track at Rajegwesi. We used Quantum-GIS to create the land classification and observation mapping. Bird observation used point count method in the morning and evening with three periods of hour and three repetitions. The study confirmed about 76 species of 39 bird families was found in Rajegwesi. The highest abundance was Pygnonotus goiavier (E:Yellow-vented Bulbul), at the meadows, village, and rehabilitation land. The diversity index showed that the highest diversity was found at the heterogeneous forest (H' index 3.745), followed by homogenous forest (H' index 3.150), rehabilitation land (H' index 2.845), village (H' index 2.693), paddy fields (H' index 2.529), and savanna (H' index 1.880). The observation track was divided into 3 lines based on the bird's distribution, the Village – Rehabilitation Land track (6.5 Km), Village track (2.3 Km), and Village – Rafflessia Park track (7.5 Km). Total of 25 bird species were found at the Village – Rehabilitation Land track, 22 species were found at the Village track, and 29 bird species were found at the Village – Rafflessia Park track. For the future of ecotourism development through birding development program, there are several issues that should be promoted: promoting birds conservation in the community through bird watching and birds observation competition (Bird race), training on conservation and ecotourism for the community, and strengthening the capacity and capability of Rajegwesi Ecotourism Society (RES) on the ecotourism program management.
Keywords: bird watching, conservation, ecotourism development, RES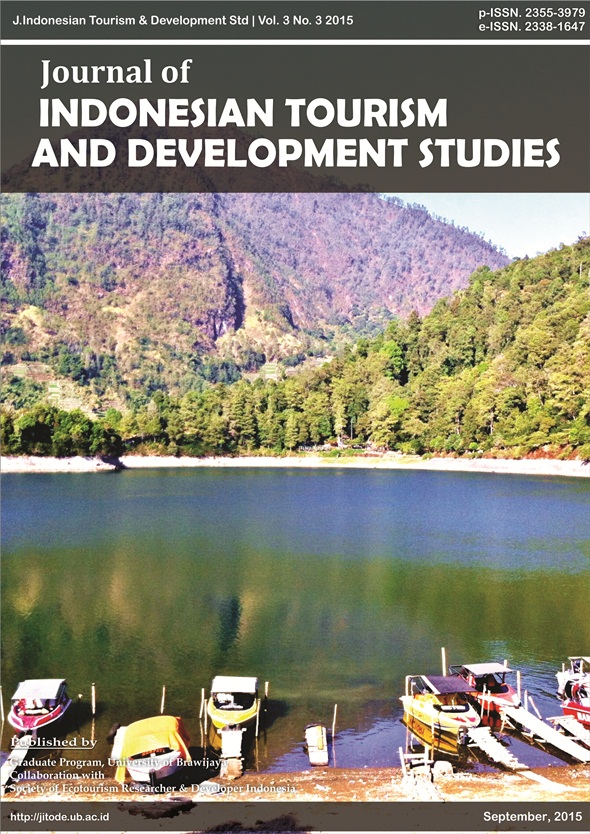 Downloads
License
Authors who publish with this journal agree to the following terms:
Authors retain copyright and grant the journal right of first publication with the work simultaneously licensed under a Creative Commons Attribution License that allows others to share the work with an acknowledgement of the work's authorship and initial publication in this journal.

Authors are able to enter into separate, additional contractual arrangements for the non-exclusive distribution of the journal's published version of the work (e.g., post it to an institutional repository or publish it in a book), with an acknowledgement of its initial publication in this journal.
Authors are permitted and encouraged to post their work online (e.g., in institutional repositories or on their website) prior to and during the submission process, as it can lead to productive exchanges, as well as earlier and greater citation of published work (See The Effect of Open Access).