Factors Influencing Motivation of the Tourism Actors in the Pulau Merah Banyuwangi, East Java, Indonesia
Abstract
The research aimed to identify the motivation of tourism actors and to analyze the factors influencing the motivation in Pulau Merah tourism area, Banyuwangi Regency. The object of the research is 61 business actors, consisting of homestay, souvenir shops, cafe, umbrella rental services, and travel operators. Respondents were selected using Stratified Random Sampling. Data were collected through interviews with questionnaires, and completed with secondary data from local villages. Data were analyzed with descriptive analysis and Multiple Linear Regression. The results showed that the motivation of business actors was in the high category with the score of 80.9%. The actors' source of motivation to do business is derived from business benefits of 91.2%, family or friends as high as 77.4%, ideas and abilities as much as 83.3%, and confidence to advance as much as 85.3%. The result of Multiple Regression Analysis showed that motivation is significantly influenced by encouragement, action and satisfaction factors, each with a regression coefficient of 0.310, 0.218 and 0.265, respectively. While the needs factor has no significant effect on motivation.
Keywords: Banyuwangi, motivation, Pulau Merah, social capital, tourism.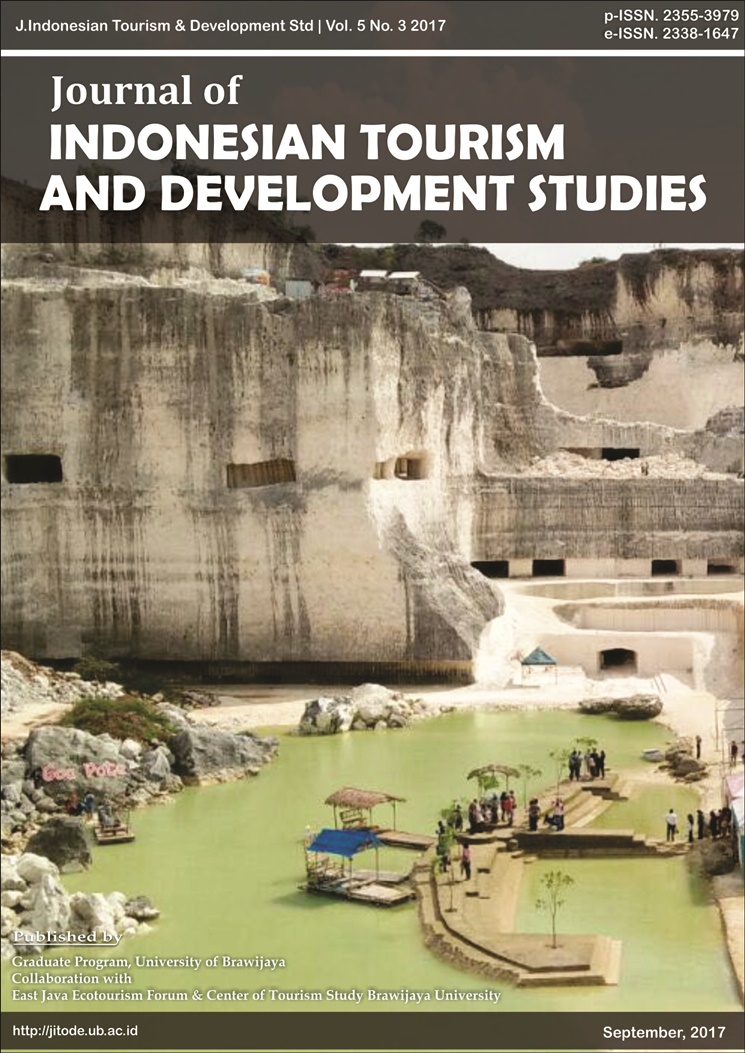 Downloads
License
Authors who publish with this journal agree to the following terms:
Authors retain copyright and grant the journal right of first publication with the work simultaneously licensed under a Creative Commons Attribution License that allows others to share the work with an acknowledgement of the work's authorship and initial publication in this journal.

Authors are able to enter into separate, additional contractual arrangements for the non-exclusive distribution of the journal's published version of the work (e.g., post it to an institutional repository or publish it in a book), with an acknowledgement of its initial publication in this journal.
Authors are permitted and encouraged to post their work online (e.g., in institutional repositories or on their website) prior to and during the submission process, as it can lead to productive exchanges, as well as earlier and greater citation of published work (See The Effect of Open Access).