Etnobotani Pekarangan Rumah Inap (Homestay) di Desa Wisata Tambaksari, Purwodadi, Pasuruan, Jawa Timur
Abstract
Penelitian ini bertujuan untuk mengetahui jenis-jenis tanaman pekarangan rumah, menggali persepsi masyarakat dan wisatawan tentang tanaman pekarangan, mengetahui nilai kegunaan tanaman pekarangan homestay, serta mengetahui periodesitas masa panen dan berbunga tanaman di Desa Wisata Tambaksari. Metode yang dilakukan pada penelitian ini, meliputi survei tanaman pekarangan rumah, studi persepsi masyarakat dan wisatawan dengan membagi kuisoner pada 60 responden. Nilai kegunaan tanaman dianalisis menggunakan metode UVs, sedangkan nilai ketergantungan masyarakat terhadap suatu tanaman dianalisis dengan metode ICS, serta membuat tabel periodesitas masa panen dan berbunga tanaman pekarangan rumah. Berdasarkan hasil penelitian terdapat 43 jenis tanaman di pekarangan rumah. Persepsi responden homestay lebih tinggi dibandingkan responden non-homestay terhadap desa wisata dan pekarangan rumah. Wisatawan memandang bahwa tanaman pekarangan rumah sangat penting untuk kegiatan ekowisata. Hasil analisis nilai UVs dari 43 tanaman diketahui bahwa Musa acuminata var Berlin, Musa (Kelompok AA) Sucrier, Musa (Kelompok AAA) Gros Michael, dan Musa acuminata var Hijau memiliki nilai UVs tertinggi dengan nilai sebesar 5. Sedangkan, analisis nilai ICS dari 43 jenis tanaman diketahui bahwa Cocos nucifera L. memiliki nilai ICS tertinggi dengan nilai sebesar 84. Analisis ICS dan UVs dapat digunakan untuk menggali persepsi tentang etnobotani pekarangan rumah dalam mempertahankan biodiversitas pekarangan rumah dan fungsi ekologis lingkungan. Tabel periodesitas masa panen dan masa berbunga dapat mempermudah wisatawan saat melakukan kegiatan ekowisata di Desa Wisata tambaksari.
Kata Kunci: Desa wisata, ICS, pekarangan rumah, persepsi, UVs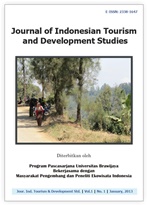 Downloads
License
Authors who publish with this journal agree to the following terms:
Authors retain copyright and grant the journal right of first publication with the work simultaneously licensed under a Creative Commons Attribution License that allows others to share the work with an acknowledgement of the work's authorship and initial publication in this journal.

Authors are able to enter into separate, additional contractual arrangements for the non-exclusive distribution of the journal's published version of the work (e.g., post it to an institutional repository or publish it in a book), with an acknowledgement of its initial publication in this journal.
Authors are permitted and encouraged to post their work online (e.g., in institutional repositories or on their website) prior to and during the submission process, as it can lead to productive exchanges, as well as earlier and greater citation of published work (See The Effect of Open Access).