Recent Status of Coral Reef Ecosystem in Penuktukan Bali, Indonesia: the Implication for Sustainable Marine Tourism Implementation
Abstract
Recent development of marine tourism in Penuktukan Village, Sub district Tejakula of the Buleleng Regency in Bali has been contributed to the coral reef ecosystem. The aim of the research was to determine the coral reefs coverage, coral reef and fishes diversity in Penuktukan Villages, Sub district Tejakula of the Buleleng Regency. Result of the research confirms that coral reef coverage in Penuktukan was varied from 53 to 56%, indicates human impact to coral reefs ecosystems. The coverage level can be influenced by tourist activities. Based on the observation it is clear that Coral Foliose types were dominant. Diversity index (H') of coral reefs ranging from 1.754 to 1.814; while the evenness index (E) was ranging from 0.8435 to 0.9468. The observed fish was less than 25 individual. These fishes taxonomically belong to Serranidae, Lutjanidae, Letherinidae, Caesionidae, Scaridae, Haemulidae and Chaetonodae. It was lowest compared to the standard for population in healthy water. The implementation of marine based tourism in Penuktukan Village should be controlled through visitor management and coral reef ecosystem conservation.
Keywords: Bali, coral reefs, marine tourism.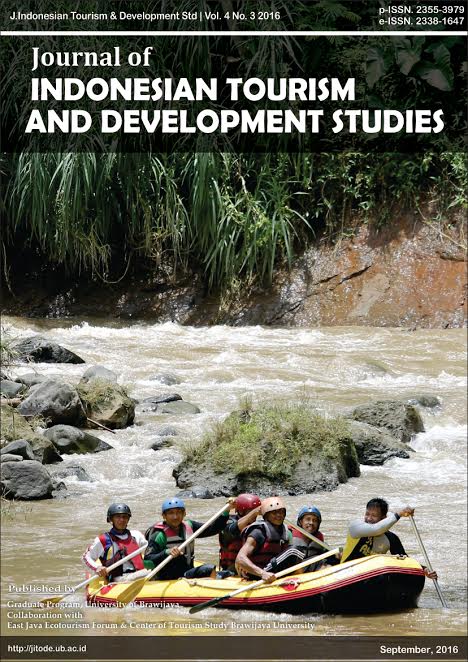 Downloads
License
Copyright (c) 2016 Journal of Indonesian Tourism and Development Studies
This work is licensed under a Creative Commons Attribution 4.0 International License.
Authors who publish with this journal agree to the following terms:
Authors retain copyright and grant the journal right of first publication with the work simultaneously licensed under a Creative Commons Attribution License that allows others to share the work with an acknowledgement of the work's authorship and initial publication in this journal.

Authors are able to enter into separate, additional contractual arrangements for the non-exclusive distribution of the journal's published version of the work (e.g., post it to an institutional repository or publish it in a book), with an acknowledgement of its initial publication in this journal.
Authors are permitted and encouraged to post their work online (e.g., in institutional repositories or on their website) prior to and during the submission process, as it can lead to productive exchanges, as well as earlier and greater citation of published work (See The Effect of Open Access).