Exploration of Herpetofauna Habitat as Tourism Attraction: Ecology, Preferences, and Potentials
Abstract
Herpetofauna (Class: Reptilia, Amphibia) has potential value as tourist attraction and its sustainability could be preserved by ecotourism program. We propose a new fauna-based tourism attraction by conducting herpetofauna survey in a few locations inside Sukamade, Meru Betiri National Park (MBNP), and using their habitat as spots for ecotourism potential sites. Visual Encounter Survey method was conducted in 6 locations (200 m transect pathway). We found 166 individuals, belonging to 32 species in 15 families. Leptobrachium hasselti has the biggest Important Value Index (16.55%), making this species potentially become one of the potential herpetofauna as a tourist attraction. Chelonia mydas, an endangered species, is one of the interesting species to be observed in Sukamade.This species is full migrant and does long migration in its feeding ground in Borneo, Australia, and Pacific, then back to Sukamade to lay eggs. Sumbersari and Glintungan forest became a habitat for amphibians that need clean water, such as L. Hasselti and Leptophryne borbonica, and potentially become the location of herpetofauna observation. Occidozyga lima, Fejervarya limnocharis, and Limnonectes microdiscus were found in four survey sites (Sumber Langsep, Glintungan, Estuary, and Jungle Track).
Keywords: Herpetofauna, Sukamade, Tourism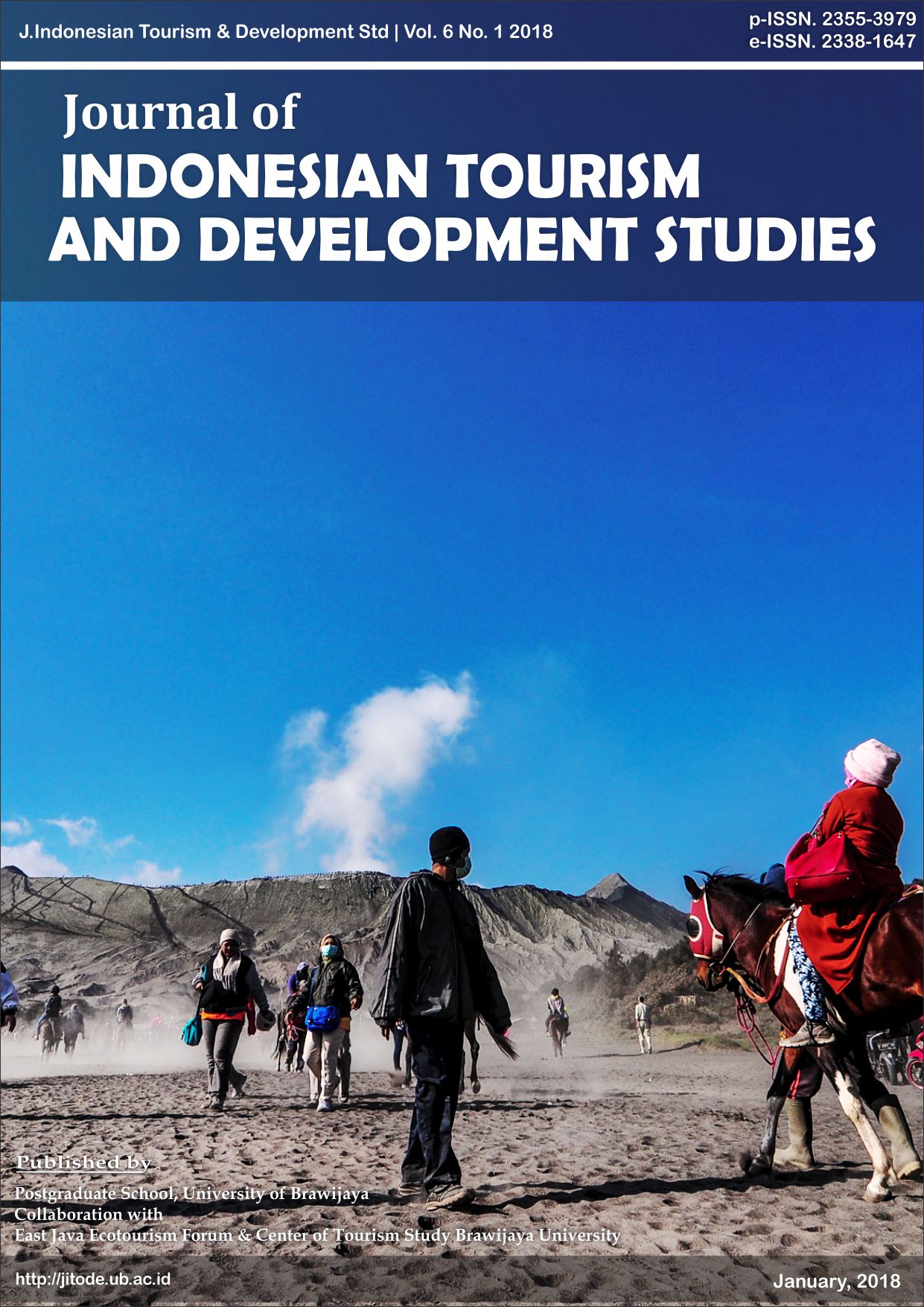 Downloads
License
Copyright (c) 2018 Journal of Indonesian Tourism and Development Studies
This work is licensed under a Creative Commons Attribution 4.0 International License.
Authors who publish with this journal agree to the following terms:
Authors retain copyright and grant the journal right of first publication with the work simultaneously licensed under a Creative Commons Attribution License that allows others to share the work with an acknowledgement of the work's authorship and initial publication in this journal.

Authors are able to enter into separate, additional contractual arrangements for the non-exclusive distribution of the journal's published version of the work (e.g., post it to an institutional repository or publish it in a book), with an acknowledgement of its initial publication in this journal.
Authors are permitted and encouraged to post their work online (e.g., in institutional repositories or on their website) prior to and during the submission process, as it can lead to productive exchanges, as well as earlier and greater citation of published work (See The Effect of Open Access).