Evaluation of the Maximum Number Determination Tourists on New Normal Tourism
Abstract
Before Covid-19 happened, the tourism industry had been faced overtourism problems as the effect of mass tourism growth. Tourism environment quality reduction and the social problem happened to the local people become a problem behind all glitters of tourism growth. Since the Covid-19 outbreak, the overtourism problem changes into nontourism. The spread of Covid-19 in tourism can change the tourism development's paradigm from the visit quantity to the visit quality. Policy about the limitation on the number of visitors applied as the requirement for reopening the tourism sector. This policy is related to the tourism carrying capacity about the maximum amount contained in one tourism area without causing any damages to the environment. This visitor's limitation indirectly solved two problems at once, concerns about the spread of Covid-19 and overtourism repeats. The research was done in Pulau Merah Beach as the destination with the highest visitors in Banyuwangi regency, which has 574 visitors each day and did the tourism opening simulation in a new normal era with visitors' limitation. The tourism manager has determined that 750 people are the maximum number of visitors per day. This research aimed to evaluate the consistency of the number of maximum visitors with Covid-19 policy about visitors limitation using the tourism carrying capacity concept Mix methods were used in this study to deepen data and analysis. Thus, complete and clearer research was gained. Based on the analysis, the physical carrying capacity value of 1.074 people per day, the real carrying capacity value, and effectiveness of 468 people per day. It means the limitation of visitors in new normal tourism in Red Island is safe and by the Covid-19 protocol because it decreased about 30% from the tourism physical carrying capacity. However, if it was evaluated from the real carrying capacity value and effectiveness, those amounts are still exceeding the capacity of the tourism carrying capacity.
Keywords: New Normal, Tourism Carrying Capacity, Visitors Limitation.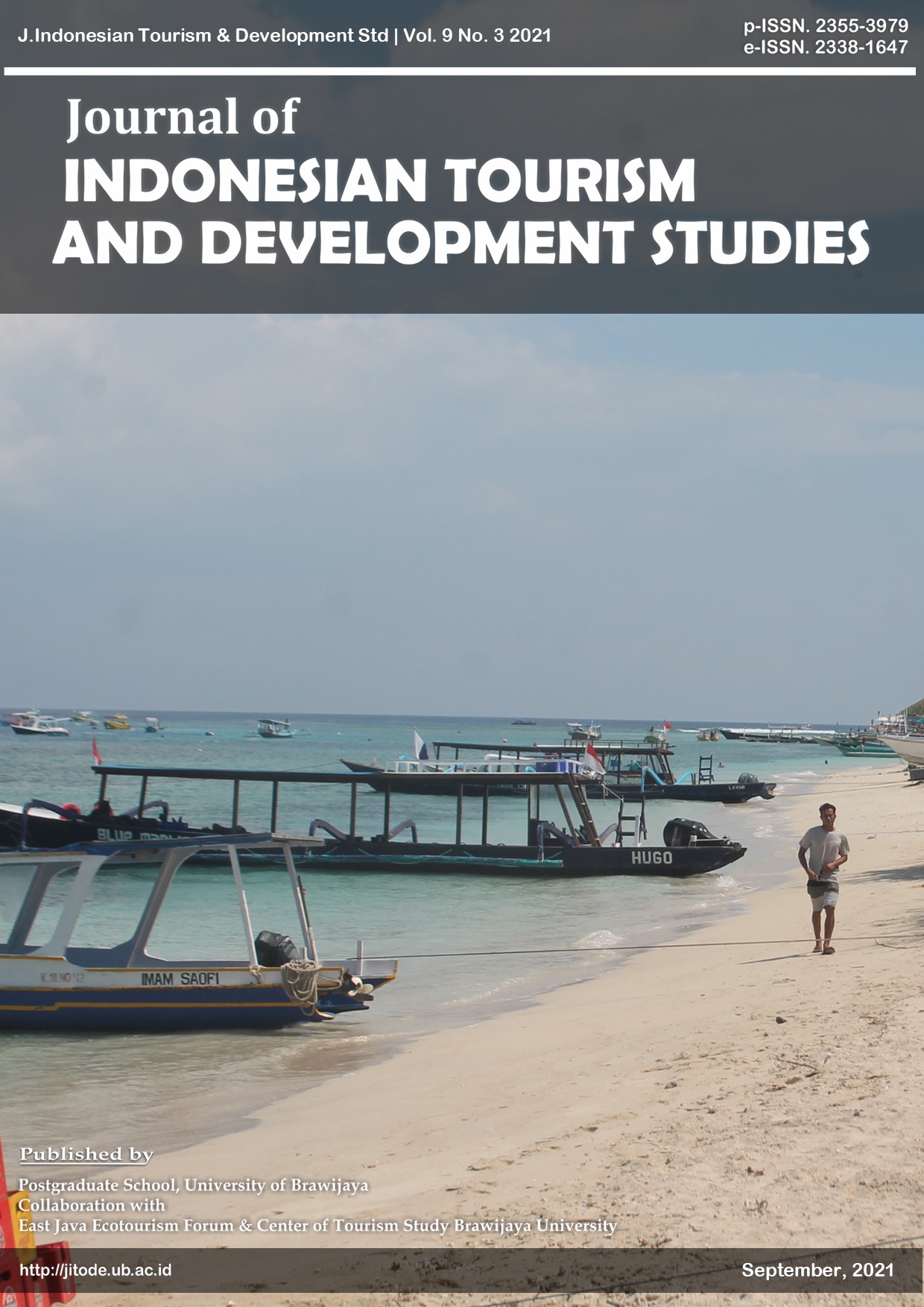 Downloads
License
Authors who publish with this journal agree to the following terms:
Authors retain copyright and grant the journal right of first publication with the work simultaneously licensed under a Creative Commons Attribution License that allows others to share the work with an acknowledgement of the work's authorship and initial publication in this journal.

Authors are able to enter into separate, additional contractual arrangements for the non-exclusive distribution of the journal's published version of the work (e.g., post it to an institutional repository or publish it in a book), with an acknowledgement of its initial publication in this journal.
Authors are permitted and encouraged to post their work online (e.g., in institutional repositories or on their website) prior to and during the submission process, as it can lead to productive exchanges, as well as earlier and greater citation of published work (See The Effect of Open Access).